RESQUNIT Elektronisk Reservebøye
Order your RESQUNIT with Electronic Timer Release
Produktinformasjon
RESQUNIT er et funksjonelt og rimelig gjenfinningssystem for å lokalisere og hente tapt fiskeutstyr. Systemet har programmerbar elektronisk utløsermekanisme, er enkelt å installere og er selvbetjent. Ingen brukerinteraksjon kreves etter førstegangs oppsett.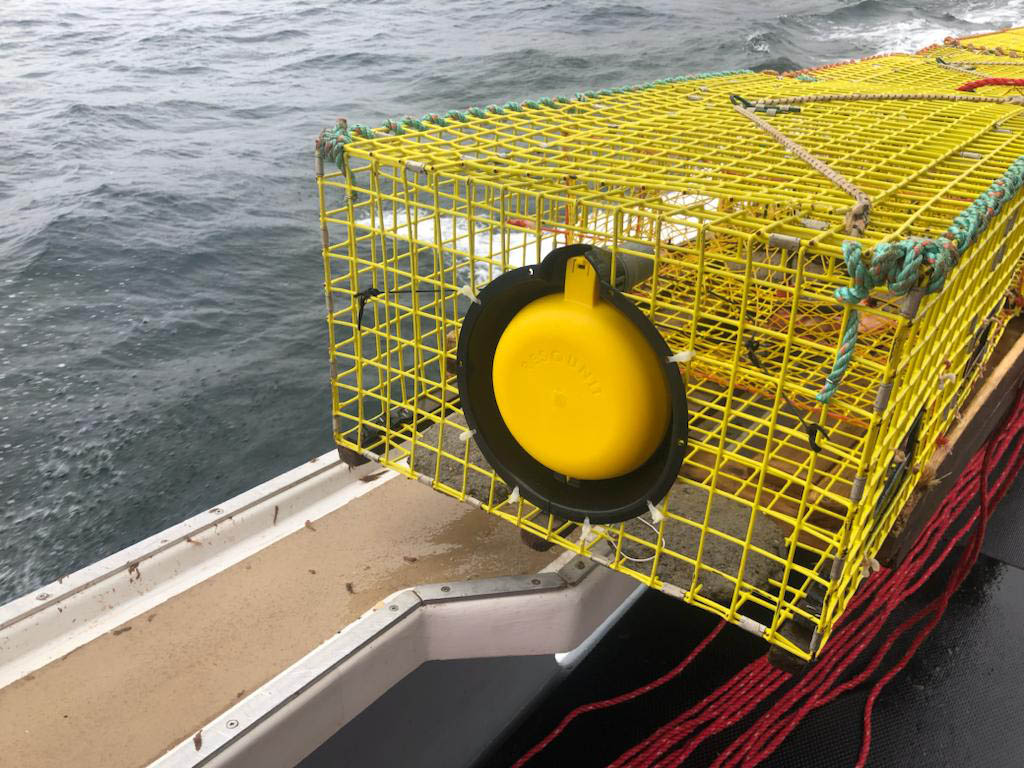 Minimum dybde/bruksområde
Høyde,bredde,dybde med ETR installert
Teiner, profesjonelle
Teiner, fritidsfiske
Vitenskapelig og teknisk utstyr i sjøen
Vår elektroniske utløser ETR er sertifisert for arbeidsdybde til 900 meter. Enheten kan utløses 250 ganger i sin levetid.
Slik fungerer RESQUNIT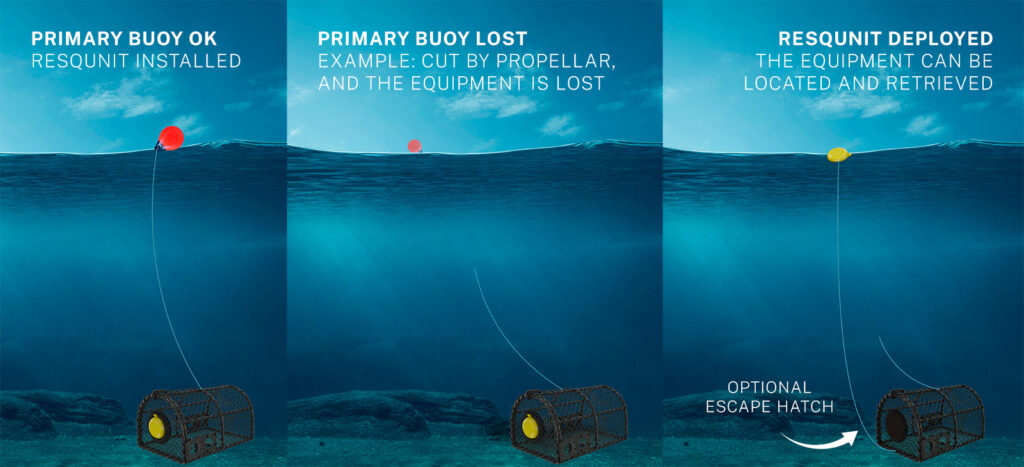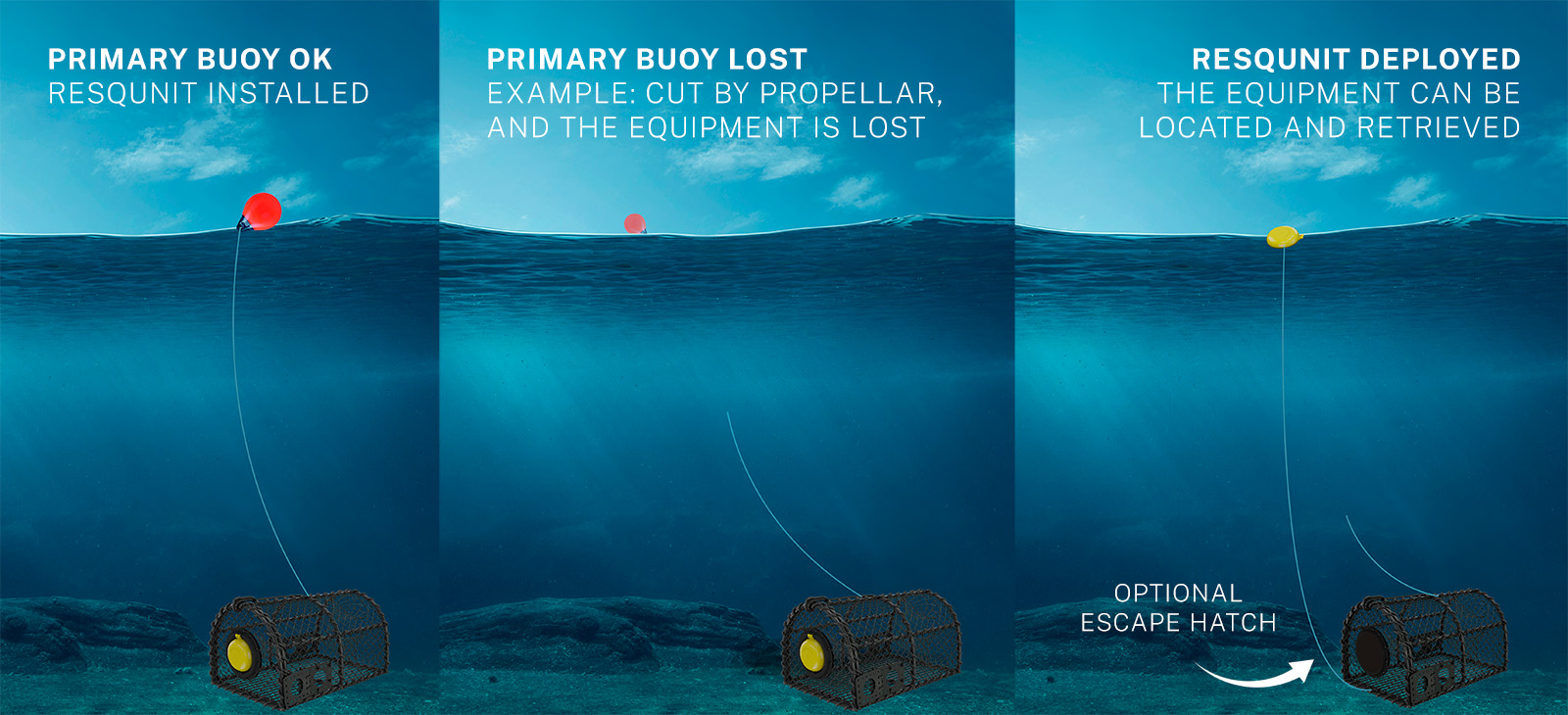 Moderne grensesnitt
RESQUNIT app for mobil
Den elektroniske timeren kan enkelt konfigureres med vår brukervennlige mobil app kalt RESQUNIT ETR, tilgjengelig for både iPhone- og Android-brukere.
Tilpasset ditt bruk
Siden enheten kan tilpasses fullt ut via mobilappen, har det aldri vært enklere å beskytte både hav og utstyr.
Sikre utstyr mot tap
Høyere forutsigbarhet
Med RESQUNITs svært pålitelige elektroniske utløsermekanisme er sannsynligheten for å finne bøyen høy
Begrense tap av utstyr i sjøen
RESQUNIT forhindre tap av for eksempel fiskeredskaper. Den sikrer dine investeringer såvel som dyrebestand ved å hindre spøkelsesfiske
Minimalt vedlikehold
Still inn tidsutløseren til feks. 5 dager om du røkter teiner hver 2-3 dag. Enhetens smarte design sikrer da at den gule reservebøyen kun frigjøres dersom den er i sjøen i 5 dager eller mer. Under vanlig fiske nullstilles telleren når den kommer til overflaten
Fordelene med RESQUNIT
Spar penger

Du slipper å kjøpe nytt utstyr dersom du mister teinen i sjøen.

Spar tid

Du lokaliserer og henter opp ditt tapte utstyr innen kort tid

Miljøvennlig

RESQUNIT forhindrer spøkelsesfiske og hindrer forsøpling av havet

Brukervennlig

Enheten installeres enkelt og tidsutløseren programmeres enkelt via vår brukervennlige mobil-app, under førstegangsinstallasjon

Minimalt vedlikehold

Utløserens teller nullstilles hver gang du drar teinen til overflaten. Med andre ord krever ikke løsningen noe fortløpende vedlikehold etter installasjon.

Flere bruksområder

RESQUNIT passer på enkeltteiner såvel som teiner som er festet i lenke. På en lenke kan du til eksempel ha en RESQUNIT i hver ende.
Bærekraftig fiske
Ved å bruke RESQUNIT bidrar du til å holde havet rent samtidig som du beskytter dyrebestand og eget utstyr.
Der er mange fordeler ved å bruke RESQUNIT enten det er på fiskeutstyr eller annet utstyr som brukes i sjø og hav
Unngå tap av utstyr i havet

Unngå erstatningskostnader

Unngå tap av fangst

Lav pris

Enkel konfigurasjon ved installasjon

Valgfri tidsinnstilling

Unngå forurensning av havet

Unngå spøkelsesfiske

Bevar biomasse og dyrebestand

Beskytt ditt inntektsgrunnlag som fisker

Vedlikeholdsfri løsning

Meget enkel installasjon

Vis at du tar ansvar
Order your RESQUNIT with Electronic Timer Release
Order your RESQUNIT with Electronic Timer Release
Spørsmål og svar
Takk for din interesse i vår løsning. Dersom du har andre spørsmål som ikke besvares på denne siden, vennligst kontakt oss ved å bruke knappen nedenfor.
Kontakt oss
Installasjonen er enkel og gjøres med følgende steg
Steg 1 - Følg instruksjonene i brukermanualen for å stille inn tidsutløseren. Det gjøres enkelt via vår mobil app som heter RESQUNIT ETR. Du velger feks. 5 dager, og så holder du mobilen inntil tidsutløseren.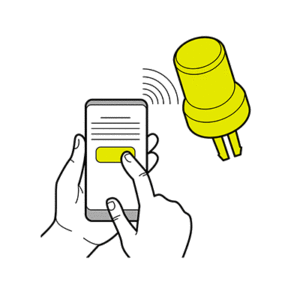 Steg 2 - bruk en avbitertang for å gi rom til RESQUNIT på teinen.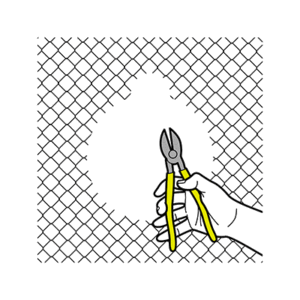 Steg 3 - Klikk deretter utløseren til RESQUNITs ramme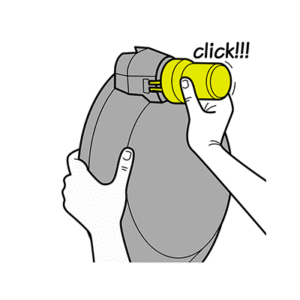 Steg 4 - bruk strips til å feste rammen til teinen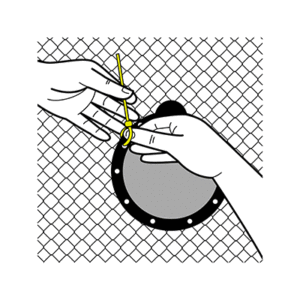 Steg 5 - Feste RESQUNITs tau i teinen slik at utstyret kan trekkes opp når du finner den gule bøyen i sjøen.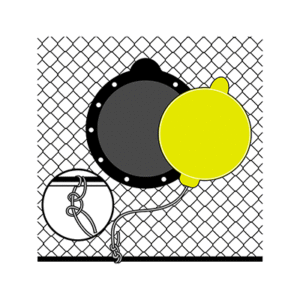 Steg 6 - Sett den gule bøyen i rammen og klikk den på plass.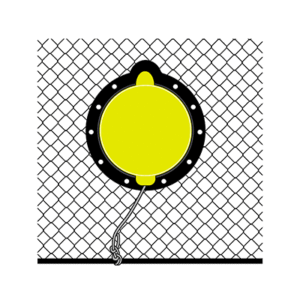 RESQUNITs tau har en bruddstyrke på 100-115 kg og kan hale opp ganske tungt utstyr. For tyngre utstyr eller for enklere haling brukes det tynne tauet som en ledetau for et tykkere tau og en dregg, festet sammen med en karabinkrok.
Dette er en enkel og elegant operasjon
Step 1 – - Fest et tykkere tau til det tynne RESQUNIT tauet ved hjelp av en karabinkrok.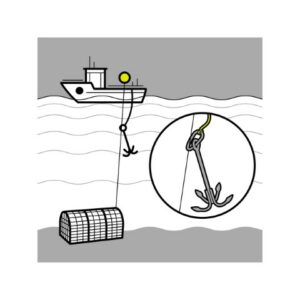 Steg 2 - La det tykkere tauet og dreggen ledes ned via det tynne tauet. Når du kjenner at du har nådd bunnen, fisk litt opp og ned frem til du kjenner at dreggen har festet seg i teinen. Du kan nå hale utstyret opp.